Known more for its picnic facilities than as an amusement center, Valley View Park served as a popular summer gathering spot for nearly 40 years in the first half of the 20th century.
Fast Facts
Name(s): Valley View Park, Clipper Park, Inkerman Park
Opened: 1904
Closed: 1941
Location: Jenkins Township, PA 18640
Today: Unknown
Trolley/Railroad Park: Yes, Lackawanna & Wyoming Valley Railroad (Laurel Line)
Roller Coasters: None



---
History
Opened in 1904, Valley View Park was located in Jenkins Township, just south of Pittston. It was opened by the Lackawanna & Wyoming Railroad, also known as the Laurel Line, along the right of way on land leased from the Pennsylvania Coal Company.
David Galvin served as the park's first manager. In its early days, the Valley View Park may have also been known as Clipper Park or Inkerman Park.
In addition to the summer dances held at the 60 by 100 foot pavilion, the park offered a merry-go-round, shooting gallery, penny arcade, swings, and a baseball diamond.
A promotional postcard circa 1911 advertised that Alexander's Band would perform concerts at Valley View Park on Sundays at 3 p.m. April 23 and 30, and May 7, 14, 21, and 28. The front of the card shows a scene from the park including pavilions, benches, and patrons enjoying their day among the trees.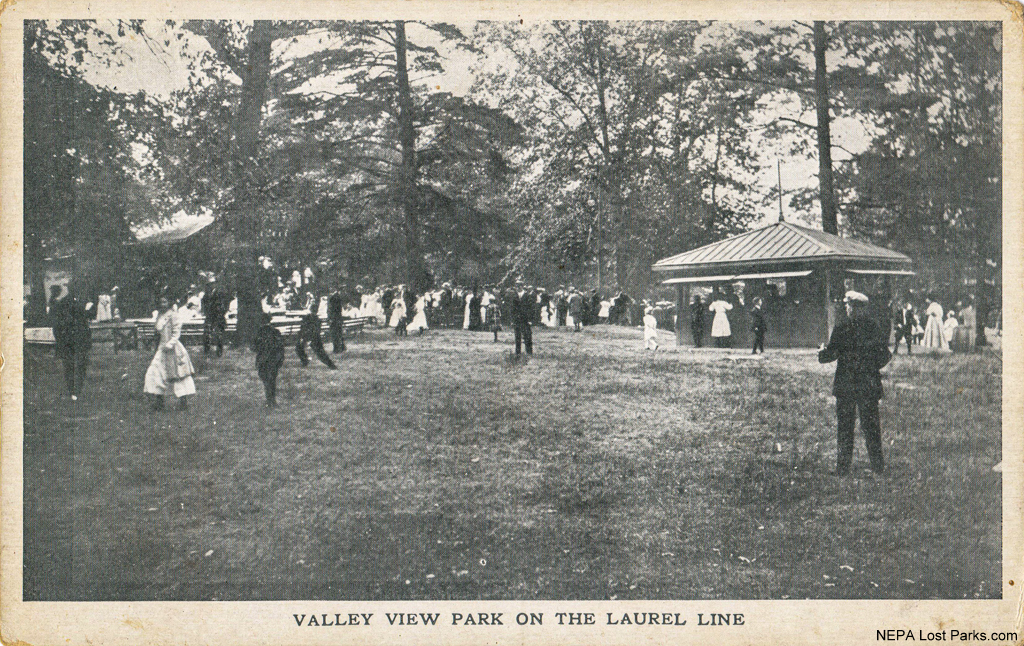 On July 4, 1912, the ever-popular annual Caledonian games and picnic were held at the park; the following year saw Baur's Orchestra playing for the holiday.
Although the exact date is unknown, by 1914 the Ogden Brothers Company of Philadelphia either owned or leased the park. That same year, another park leased by the company, Mountain Park, closed at the end of the season. Many of the attractions, benches, and tables were moved to Valley View Park.
Valley View continued to be popular into the 1920s, where on Memorial Day in 1922, over 20,000 attended the Lithuanian Day picnic. Just over a year later, on July 4, 1923, the park again saw over 20,000 for the Lithuanian Day picnic, even with the rainy weather for the holiday.
Fern Club dances were held weekly at the time, and many other acts visited the park, including Billy Sharpe and his orchestra, and Harry MacDonald and his Californians with Jack Gallagher.
As reported by the Wilkes-Barre Record in May of 1928, no new amusement devices were being added. That same month would see the park leased to Frank Killian and Edmund J. Granahan of Inkerman.
Valley View Park continued to operate until 1941, when the park, like so many others, closed in the face of rising costs, material shortages, and lack of attendance due to rationing of gas and rubber. Several years later, in 1945, strip mining was begun in a portion of the park.
---
Sources
Northeastern Pennsylvania – Feb. 17, 1982
Sans Souci Park, by C. Charles Ciesla
Amusement Parks of Pennsylvania, by Jim Futrell
Wilkes-Barre Record – various dates
Mountain Park, published by the Luzerne County Historical Society, 2002
Last research update: August 20, 2006
Last page update: March 23, 2021